Los Poblanos keeps hands clean in New Mexico by donating thousands of bottles of newly developed hand sanitizer.
Name: Matthew Rembe

Title: Owner/Executive Director

Company: Los Poblanos

Region: Southwest (New Mexico)

Vistage Chair: Tiare Tawil
Matt Rembe owns and operates Los Poblanos, a 50-room boutique inn/farm/restaurant/shop in New Mexico that also manufactures and distributes organic lavender body products using essential oil from lavender cultivated right on site. As the pandemic broke across the country, Rembe had just formulated a lavender hand sanitizer and produced 10,000 bottles for distribution. When he released them, 8,000 sold in less than four hours and the remaining 2,000 were set aside and donated to the community.
With the tremendous demand for sanitizer, Rembe decided to prioritize distribution to people on the frontlines of this crisis -- those at local hospitals, in ICUs and emergency care, homeless shelters, workers in facilities who are sewing masks, fire station personnel, at-risk youth shelters, and to the Navajo Nation which was experiencing more cases than other groups.

"When we feel a little helpless, it feels good to create something beneficial for our staff and our community," says Rembe.

Rembe also provided the sanitizers to his working staff, over 150 furloughed workers, as well as the many clients who had to postpone their weddings.
"We donated 20% of our first production run -- valued at about $20,000 and we are prepared to donate more once we secure more bottles," he says. Rembe also put out a standing offer through the Vistage Coronavirus Network: Los Poblanos would fill and distribute as many bottles of hand sanitizer as they received donated bottles for. In other words, if you donate the bottles, Los Poblanos will donate and distribute the hand sanitizer.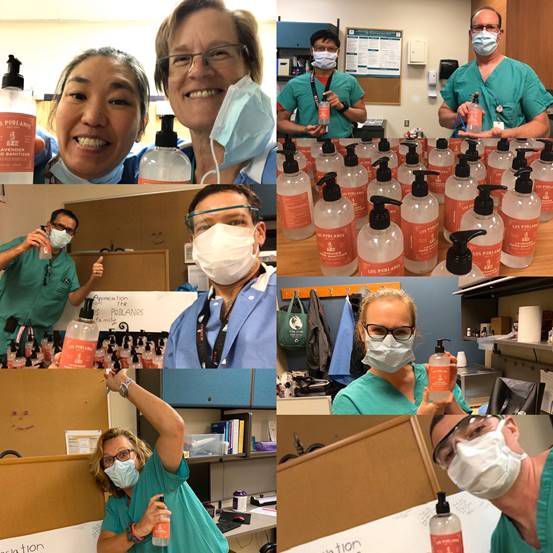 "We are out of bottles and can't buy them," Rembe explains. "Virtually all plastic bottles come from Wuhan, China, so supply has been cutoff for weeks. We also formulated a one-ounce spray with 10,000 amber glass bottles we had in stock for another product. As soon as this batch is released, we will be out of bottles for several months. If a company wants to donate bottle supplies, we will fill them with hand sanitizer and donate them to our community for free."
What's needed:
8 oz plastic bottles with pump

2 oz plastic with spray cap
Rembe says the company will pay market rate for bottles they decide to sell.
If your company can help, please email mrembe@lospoblanos.com.