At Vistage we believe the greatest challenges bring the
greatest opportunities.
Vistage is the world's largest executive coaching organization for small and midsize businesses.
Our proven approach to decision-making has endured for over 60 years, helping business leaders excel during the best and worst of times. At the heart of our proven formula are confidential peer advisory groups and executive coaching sessions.
In today's environment, our members are helping each other work through difficult decisions and challenge their thinking. Consider what it would mean for you to have a similar sounding board.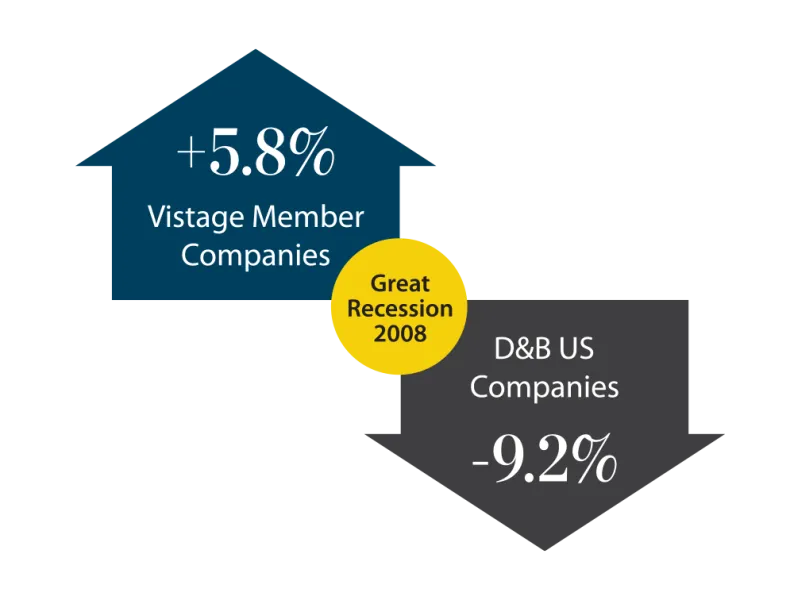 Growth. Even in tough times.
During the Great Recession, so many companies folded or just barely hung on. Survival was the focus, not growth. Yet, Vistage members grew at a rate of 5.8% on average while the competition suffered unprecedented declines. Why? Because Vistage members could rely on the advice and perspectives of their peers and the host of Vistage resources to make better decisions.

As a Vistage member, you're surrounded by high integrity people who hold each other accountable for their commitments and keep you from taking disastrous shortcuts.

Testimonials from Vistage Members
During this challenging time, Vistage members have been able to lean on each other for direction and guidance
"During this 'blip' in proceedings as a result of coronavirus, I'm grateful for the support, intelligent comments and camaraderie from my Vistage group. Without the 3.5 years of Vistage development I would not be the leader I am today, and being the leader I am today has pretty much saved our business over the last couple of weeks. It doesn't happen overnight but my learnings and confidence have compounded quickly over time with a multiplier effect."

"I am so fortunate to be in my Vistage group. We are in challenging times, and there's no script to turn to. It's these times I love most. It gives me great satisfaction to look back and realize many people rely on the decision making we are responsible for. When we get to the other side, it's the bold, daring and decisive actions we take that make a difference. I am so grateful for my friends and colleagues in Vistage who are on this journey with me."

"Another value of Vistage is that it offers members webinars, and over the past month has kicked into high gear providing as much insight as possible to help its members navigate through this crisis. One of those webinars was led by Patrick Lencioni, founder of The Table Group, and a world-renowned author, speaker and thought leader on teams and organizational behavior. He has validated that Triad's internal emphasis on embracing and ritualizing our corporate culture, has been the major contributor to our becoming a "healthy organization."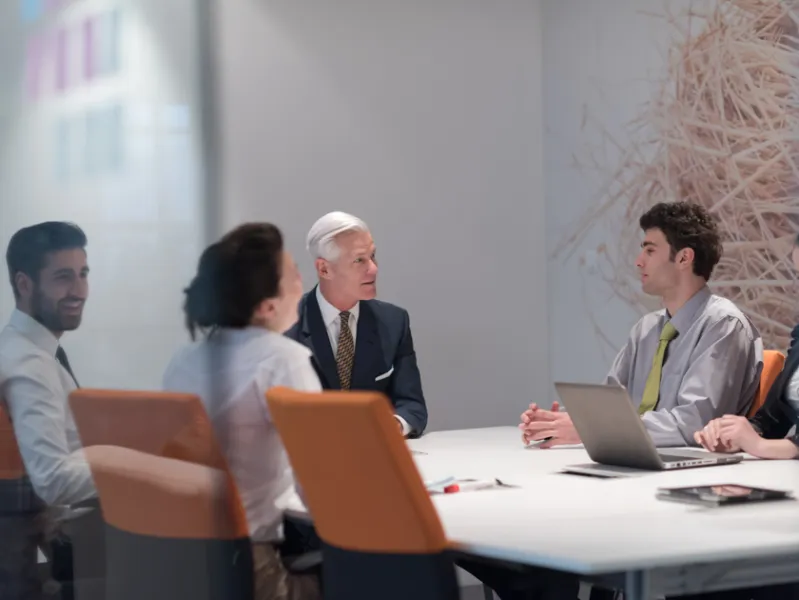 Our members make us great.
We believe in the power of peers. When leaders come together, they're able to accomplish the best things. We created this website to help showcase the wonderful things our members are doing to help their business, families and communities.